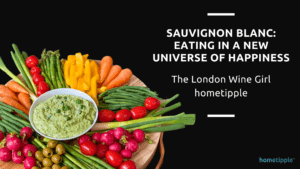 The tipple's first food and wine pairing blog featuring a delicious Garden Pea & Feta Dip with Crudités recipe exclusive from The London Wine Girl.
Drinking a glass of wine is a joy but finding food to complement it opens up a new universe of happiness. That's why we enlisted the help of Charlotte Kristensen aka The London Wine Girl, who is not only all about the wine life, but knows a thing or two about food pairings too.
Food Pairing and Sauvignon Blanc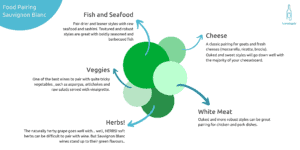 As much as we've had Sauvignon blanc on the mind this month (and trust us, it would pair perfectly with Charlotte's recipe below), we've got a couple of alternative pairing suggestions that'll open your mind and tantalise your tastebuds.
What else to drink?
When the heat of the kitchen bears down, reach for a large measure of Edwards 1902 Vodka over ice, topped with Merchant's Heart Hibiscus or Double Dutch Watermelon and Cucumber Tonic. Having sherry in the kitchen is also never a bad move and it works for almost any occasion – this is no exception. The Equipo Navazos La Bota No 93 Manzanilla is one of the best sherrys out there. Go on, chef, treat yourself.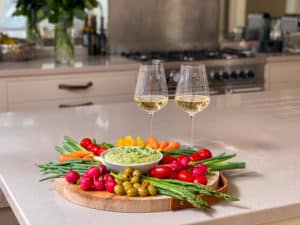 That's enough from us. It's time to get in the kitchen with the London Wine Girl for an expert guide on how to make ​​Garden Pea & Feta Dip with Crudités – Enjoy!
"One of my favourite sharing boards to serve at this time of year is a garden pea and feta dip with a colourful array of crudités. I like to serve this grazing board with bright and citrusy white wines like Vina Marty's Goutte d'Argent . Crunchy vegetables pair so well with these fresh and dry styles of white wine. I love preparing all the chopped veggies and having fun styling the board. It's so easy to prepare but has that real wow factor with the vibrancy of all the colours and flavours. I suggest serving this delicious food and wine pairing for an early evening aperitif with friends, for a casual al fresco lunch, or as part of a weekend barbecue banquet with added flair!"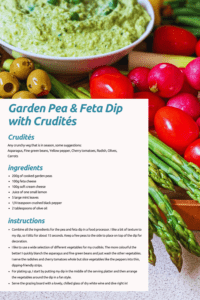 Planning on giving this recipe a try? Let us know by tagging us on Instagram (@hometipple) so we can see what tipple you decided to pair with your culinary creation!