In our previous blog, we reminded ourselves that Sauvignon blanc was much more than just one wine. This time out we take a deeper dive under the skin of this savage grape.
Sauvignon blanc is one of the world's most popular wine grapes. Sauvignon blanc's rise to fame can be largely attributed to the Kiwis. New Zealand (NZ) took the grape to their shores in the 1970s. Here the marriage of climate, land and vine went very well indeed. A hallmark style formed from the Marlborough region that is medium-bodied, highly aromatic and with a hint of green. Its popularity is so great that it is influencing other regions globally to follow suit and capture market share.
The Origins
That Marlborough style is now dominant but if we trace the wine to its roots, we come to Bordeaux, France. Sauvignon Blanc has been grown in Bordeaux for over 500 years. Dry, white Bordeaux is mostly consumed young, has refreshing acidity and is a great foil to the bolder, tannic reds the region is famous for. Pessac-Leognan aside, their most lauded style is lusciously sweet, apricot scented and can command serious money. Oddly enough these wines are made using mouldy grapes (the 'noble' rot), are blended with Semillon, and come from a humid little place called Sauternes.
French etymology hands us a really good one with Sauvignon blanc. It was formerly known as Sauvage blanc or 'Wild white'. This wasn't because the wine made from it was savage but merely as its leaves resembled those of wild vines.
The grape grows in plenty of other countries across the world such as Australia, Chile, the USA and South Africa, to name a few. If the climate is cool to moderate and the soil is poor, Sauvignon blanc has a good chance of growing.
The flavour profile
Sauvignon blanc wines are known for having moderate alcohol, high acidity and a touch of green. Winemaking releases aroma molecules present in the acidic and green-skinned grapes. These molecules are known as pyrazines and are responsible for herbaceous and gooseberry-like aromas. Pyrazines are also present in green bell peppers and jalapenōs. Wine does smell of wine but the next time you think a wine tasting note is all waffle remember there is often plenty of science to back it up.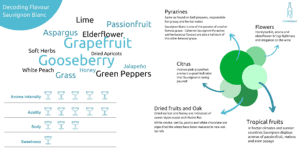 There are plenty of different styles that have become hallmarks (almost stereotypes) for certain areas of the world. Not all wines from a given region conform. A sure-fire way to miss out on great wines is writing them off based purely on their origins. Going off-piste will bring rewards! Winemakers can blend grape varieties, use oak and ferment with skins amongst many other methods to make atypical wines from Sauvignon blanc.
Classic typical Sauvignon Blanc wines from around the globe that deserve a mention:
Marlborough, New Zealand: highly aromatic gooseberries, grass and green peppers – best enjoyed in its youth.
Bordeaux, France: Either dry with grapefruit, gooseberry and lemon aromas (drinks best young). Also, lusciously sweet, honeyed and complex – can age for decades and reach mind-blowing flavour levels.
Sancerre and Touraine, Loire, France: Grassy, asparagus-like, green apples – can develop well with age but many drink well young.
Casablanca and San Antonio valleys, Chile: Tropical fruited, passion fruit, lime – can develop well with age but many drink well young.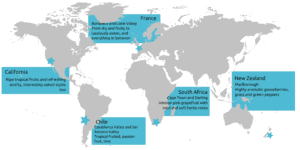 Tipple Team Picks
Sauvignon blanc unchained
An off-piste and excellent wine made by Cape Chamonix in Franschhoek, South Africa. Oddly made with whole grape bunches thrown in the fermenting juice. The wine spends its whole life in oak barrels before ending up in the bottle. And some Sémillon blended in for good measure.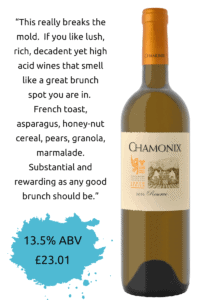 Hallmark Marlborough Sauvignon blanc
A stereotypical style that hits the nail on the head from New Zealand. Outstanding quality, grace and value.

Classic Chilean, San Antonio style with a little extra
This is tropical but it comes with added herbs. A very delicious balance of the many faces of Sauvignon blanc.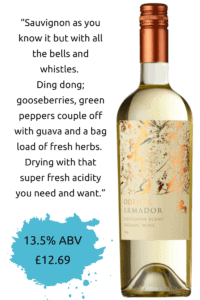 Typical Touraine from France's Loire terrain
Laser-guided with high acidity, less aromatic and greener tones. Asparagus and cut grass linger around.